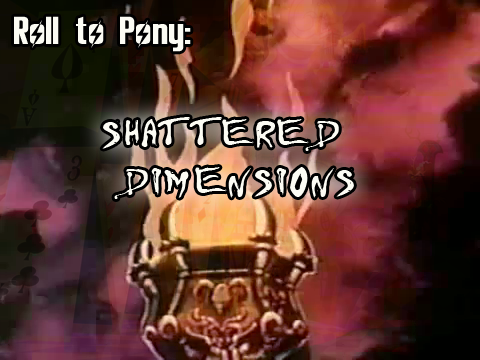 Well I thought I'd run an RTP too with a twist! So to start all the basics done by everyone else:
Lilac_Iris wrote:
Hello and Welcome everypony to another game of Roll to Doge Pony Roleplaying! Since Argembarger's game has filled up, I am seeing if there is enough interest to start a second game. Can't say I've ever done much like this, but let's do it. For the most part (by that I mean everypart) I will be copying Argembarger's rules which are....

Argembarger wrote:

It works in rounds. During each round, everyone posts what it is they're doing. That's it. Then I roll a dice for everyone to see how you did.
Please make an attempt to post once per day. I will move the game along at my own convenience, probably at some point in the evening. If I see everyone has submitted their turn early, I will try to compile the turn early. If it has been a while and someone has not submitted a turn, I take control, most likely making you do nothing.
Some versions of RTD are reasonable. The one I enjoy the most is not.
Results table:
1: Crippling failure. Not only did you not succeed at what you were doing, but some other unfortunate side-effects occurred! ooooooh
2: Failure. You didn't succeed at what you were doing at all.
3: Meager failure. You very nearly succeeded, but you didn't. Them's the breaks.
4: Meager success. You barely scratched your way through whatever it was you were doing.
5: Success. Good job! You made your momma proud.
6: Intense Success. You so completely dominated whatever it was you were doing that no one can possibly predict what will happen now. It could be spectacular or terrible. But it will almost certainly be hilarious.
All of that handles all of the uncontested checks. If you try to do something that is opposed, such as combat, or stealing from someone, or anything that involves some other living thing that might not want you to do it, then I simply roll dice for both of you and decide who wins.
Anything you do that would require even a little bit of concentration or effort requires a roll. Casual speech and normal movement does not require a roll, for instance. Trying to improvise a poem on the spot requires a roll, as does dancing.
Physics is altogether questionable, but is still somewhat in place. For instance, unless you're a pegasus or know a flying spell, you can never fly, no matter how high you roll. Etc.
========CHARACTER CREATION========
Simply post the following.
Name: what yer name is
Race: Earth Pony, Unicorn, Pegasus.
Cutie Mark: What it is, and what your special talent is. Can/May provide bonuses. My discretion.
Description: Whachoo look-a like. Personality. Roleplaying crap.

========OTHER THINGS TO KNOW========
Race matters.
Pegasus: y'all can fly. Normal flight doesn't require a roll.
Unicorn: Telekinesis. Range: within reason, I decide what's 'reasonable'. You can let yourself have some other kind of magic, if you make it your cutie mark. If it's overpowered, I'll make it /very/ easy to fail. Twilight fucks spells up all the time.
Earth Pony: y'all are dependable. Y'all have a 33% chance for +1 on your roll. If y'all get a +1, y'all don't have to worry about negative effects from rolling a 6.
Cutie mark matters.
Mary Sue bullshit at your own risk. If you are better at something than the Elements of Harmony, expect me to fuck with you mercilessly.
Last but not least, everything is decided by me. I don't have time to entertain appeals and arguments. If you want a serious game, go play something else.
Roll to Dodge is primarily for laughs.

=======================================================================================

Now then: I'm looking for 4 ponies to start this up
I will take up to 6 ponies total to start, but may allow others to be added later if I feel I can handle it.
willing to make it a little more complex if the RPer's request it, maybe add a stat/flaw or something.

Well here we go, the First round will begin when 4 brave equestrians have stepped forward!
But we're not going to start in the normal pony time and space. Due to the effect and nature of the RP more races are available such as:
Sea Pony: Not recommended. You're a sea pony you start off in a bucket will probably require team work and another pony carrying you to go anywhere without water.
Flutter Pony: You can fly and normal flight doesn't require a roll but you're also rather gracile and weak but you're nimble and can use Utter Flutter.
Zebra: Like earth ponies but more nimble and have stripes. Most ponies don't like you.
Also if you really want something else just say it and I'll make up rules for it.
ROLL TO PONY: Shattered Dimensions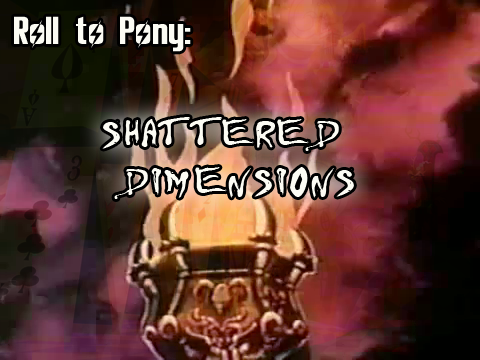 Once upon a time, in the magical land of Equestria...
The Kingdom of Equestria was a great and prosperous nation under the guidance of Princess Celestia and Princess Luna. The ponies of this nation vowed to build up this nation together in the spirit of friendship. Peace pervaded through most eras but war never changes. There came an era when the ideals of friendship gave way to greed, selfishness, paranoia, and a jealous reaping of dwindling space and natural resources. Lands took up arms against their neighbors and so the war began. The land was saturated with death and destruction. The end of the world occurred much as we had predicted -- the world was plunged into an abyss of balefire and dark magic The details are trivial and pointless. The reasons, as always, purely our own. The world was nearly wiped clean of life. A great cleansing; a magical spark struck by pony hooves quickly raged out of control. Megaspells rained from the skies. Entire lands were swallowed in flames and fell beneath the boiling oceans. Ponykind was almost extinguished, their spirits becoming part of the ambient radiation that blanketed the lands. A quiet darkness fell across the world...
...But it was not, as some had predicted, the end of the world. Instead, the apocalypse was simply the prologue for another bloody chapter in pony history. In the early days, thousands were spared the horrors of the holocaust by taking refuge in enormous underground shelters known as Stables. But when they emerged, they had only the hell of the wastes to greet them.
You are an inhabitant of Stable Eighty-Six. On the day that Balefire rained from the skies the mighty doors of Stable Eighty-Six swung closed and never reopened. Stable Eighty-Six was built into a series of natural caverns and recently a team of workers found the remains of a structure containing a ritual chamber with a cauldron at its center bearing the image of a ram's head. The Overmare of your stable, Sandy Shores, has ordered Arcane Science teams to investigate the chamber to find out if it could be used to benefit it the two centuries old infrastructure of the stable. In trying to reactivate the device they decided to try using flux...
You are in the main cafeteria, just off the atrium when a loud explosion occurs and rainbow light fills your vision. Coming from somewhere that is impossibly all around you yet also very deep inside yourself you hear an evil but slightly goofy laugh as you lose consciousness. You awake to hear screaming and see that some ponies have changed into weird types of ponies or other creatures. From somewhere you hear the sound of metallic voices screaming 'EXTERMINATE!!!' and the buzz of energy weapons fire. It sound as if they are getting closer! You know you have to move and move now. Perhaps you should even try to escape the stable. You know the controls for the stable doors can be found in the Overmare's office one floor above...
We will start once we have at least four stupid brave ponies.
Edit - OOC: Also should add for the ponies who want to be stable inhabitants the fashions of 86 include ribbon bows on the dock of the tail for mares and bandanas around the neck for stallions. Also feel free to include a role in the stable such as engineer, security, arcane scientist, etc.
If not an inhabitant you just popped into existence in the cafeteria and have no clue WTF is going on other then you were somewhere (in any timeline or reality you wish) one minute and now you're in some cafeteria after blanking out and hearing the evil yet goofy laugh. Although it's probably best to be an inhabitant since you might know how to get out.